Fixed pump out unit
Fixed pump out unit for black & bilge waters from boats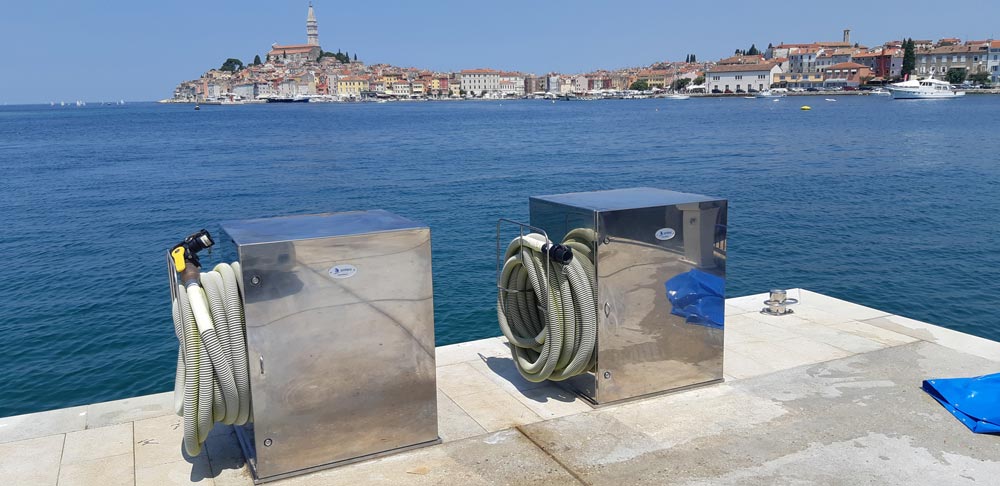 MODEL: FF/FB
DESCRIPTION
Unit is composed of:
stainless steel housing with dimensions of L=700mm, W=800mm, H=1000mm;
coil for suction hose
suction hose diameter 1 ½ ", length up to 20 meters, equiped with fast connection
special nozzles complete for black water tanks on boat
peristaltic pump equiped with 2 pcs. of pulse dampeners
el. motor 2,2 kW
el. control panel
connections for hoses
OPERATING PRINCIPLE
Place the boat close to the unit. Move the bung of waste water tank on boat. On suction hose connect one of the special nozzles adequate for waste water tank. Suction hose connect to the waste water tank. Open the ball valve on suction hose. Start the pump by pushing the START switch. When the waste water tank on boat is empty, leave the pump to work untill the suction hose and pump are not completly empty. Then push the STOP switch on el. control panel. Turn back the suction hose on coil and close the valve.
Use protect gloves for above operation.
Unit can be used only for one type of waste waters. Or for bilge or for black waters.
SCHEME

ELECTRIC PANEL
Power supply 380V/50Hz/3phase. On request we can supply el. motor with power supply 220V/50Hz/1phase.
DIMENSIONS AND WEIGHT
| | | | | |
| --- | --- | --- | --- | --- |
| MODEL | width (mm) | lenght (mm) | height (mm) | weight (kg) |
| FF/FB | 800 | 700 | 1000 | 230 |
UNIT IS PRODUCED AS PER EUROPEAN REGULATIONS
Directive 2006/42/EC of the European Parliament and of the Council of 17 May 2006 on machinery, and amending Directive 95/16/EC
Directive 2004/108/EC of the European Parliament and of the Council of 15 December 2004 on the approximation of the laws of the Member States relating to electromagnetic compatibility and repealing Directive 89/336/EEC
Directive 2006/95/EC of the European Parliament and of the Council of 12 December 2006 on the harmonisation of the laws of Member States relating to electrical equipment designed for use within certain voltage limits
Unit can be completly produced as per customer's requests.
Interested in this product?