Desalination unit for sea water
Inverse osmosis plant – Desalination unit for sea water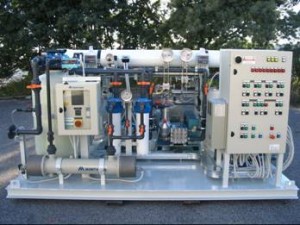 Skid mounted orcontainerised reverse osmosis desalination plants that are able to produce fresh water for potable or technical purposes.
Seawater reverse osmosis desalination plants are designed to produce drinking water (salt content less than 500 ppm) from a seawater feeding with salinity up to 55000 ppm and capacity up to 5000 m3/day.
The end user shall only connect seawater feeding header, product water outlet header and brine outlet.
The plant is fully automatic to ease the operation of the end user.
All the materials are selected to guarantee the longest lifetime of the package and to minimize the routine maintenance; as an example, the seawater pipes under high pressure are manufactured in Duplex stainless steel, while those under low pressure are made in atoxic PVC.
Each reverse osmosis plant is equipped with CPI (Clean In Place) system for periodical membrane cleaning.
STANDARD FEATURES
Seawater feed pump
Dual media filter/filters
5 micron cartridge filter/filters
8" FRP membrane housing 1000 psi
High rejection seawater membranes
Duplex stainless steel high pressure piping
PVC low pressure piping
High pressure pump in duplex stainless steel
High pressure pump controlled by VFD
Energy recovery device (turbocharger)
Permeate remineralization
Membrane automatic flushing system
Chemical cleaning system
PLC control
Heavy duty steel frame
SC/OS SERIES
Skid-mounted heavy duty seawater desalination packages for ships and offshore platforms.
 OPTIONS
Energy recovery with pressure exchangers
Chemical conditioning systems
Configuration for hazardous areas
Containerized version
UF pre-treatment
Skid customization according to the available spacefor installation
 DESIGN CONDITIONS
Design seawater salinity: 37500 ppm or 45000 ppm
Minimum seawater temperature: 10°C
Maximum seawater temperature: 30°C
SDI < 5
MODEL

SW100

SW200

SW250

SW350

SW500

SW1000

Permeate flow (m3/day):

100

200

250

300

500

1000

Feed flow (m3/hour):

9,3

18,5

23,15

34,71

46,30

92,60

Concentrate flow (m3/hour):

5,13

10,15

12,72

20,15

25,45

51,00

Membrane elements and Vessels

Vessel quantity:

1

3

3

4

5

10

No. elements:

6

6

6

6

6

6

High Pressure feed pump

Type:

Positive displacement

Centrifugal

Centrifugal

Centrifugal

Centrifugal

Centrifugal

Manufacturer:

Interpump or Danfoss

FEDCO

FEDCO

FEDCO

FEDCO

FEDCO

Motor kW

18,5

37

45

55

90

160

Energy Recovery Device

Type:

Turbocharger

Turbocharger

Turbocharger

Turbocharger

Turbocharger

Turbocharger

Manufaturer:

FEDCO or PEI

FEDCO or PEI

FEDCO or PEI

FEDCO or PEI

FEDCO or PEI

FEDCO or PEI

Cartridge filter

Filter quantity:

1

1

1

2

2

4

Cartridge quantity each:

1

1

1

1

1

1

Installation and utility requirements

Inlet:

DN50

DN50

DN80

DN80

DN100

Permeate:

DN40

DN40

DN50

DN65

DN80

Concentrate:

DN40

DN40

DN50

DN80

DN100

Inlet water pressure (bar)

2

2

2

2

2

2